According to the report published August 13 by BIB, in order to support the development of Latvian businesses, 50% of the respondents would be prepared to swap imported essential food products, such as bread, dairy products, eggs, meat and fish for local products given they would cost slightly more.
The second most popular response, chosen by 40% of the population, was "snacks, chocolates, biscuits." Alcoholic and non-alcoholic beverages are ranked third, indicated by 23% of respondents.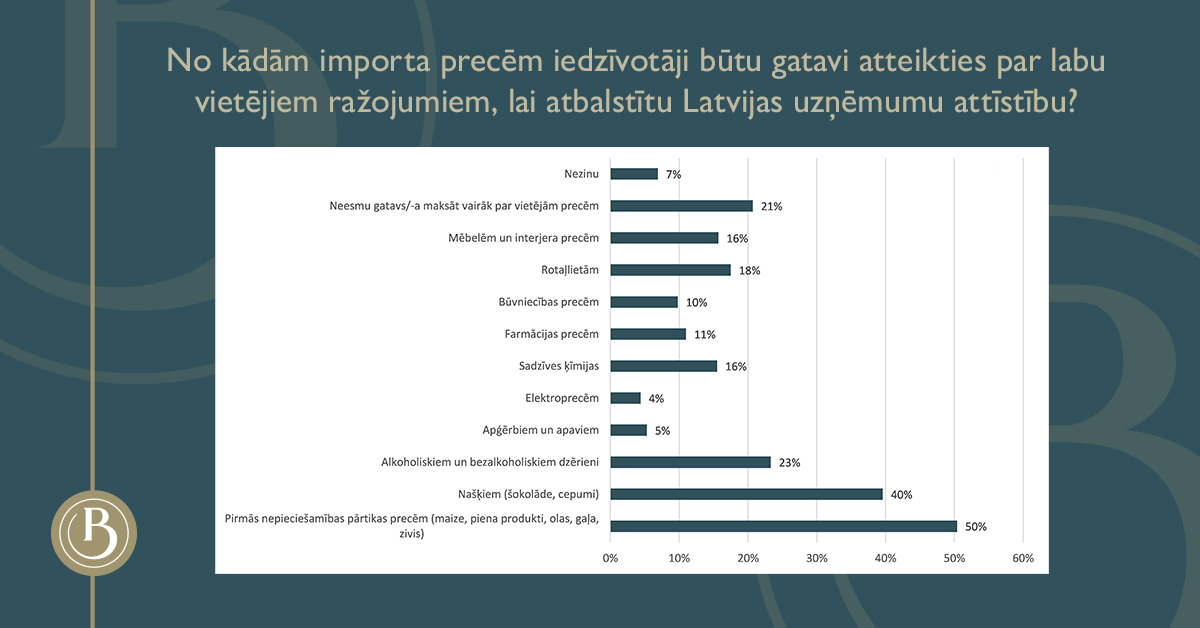 Source: Baltic International Bank
In an interview with Latvian Radio, Latvian Traders Association head Henriks Danusēvičs said:
"Unfortunately, the market is relatively small and many producers who have not yet found a sales market outside Latvia are afraid to risk producing high-quality products in larger volumes," adding that more support on the part of the country would be needed.
"It should be understood that we sell our products not only in Latvia, but also elsewhere in the European Union, so such local isolation is bad because we are interested in selling our products elsewhere and other countries are interested in selling products here," Danusēvičs said.
According to Danusēvičs, the state should mainly help small producers to maintain their place in food stores or to raise the quality of their products.
The survey of by Baltic International Bank was conducted by the research company Norstat in early August 2021. More than a thousand inhabitants of Latvia aged 18 to 74 participated.